When Microsoft wanted to simulate a realistic work-at-home environment for its training center, they turned to Corian® Design to help bring the story to life.
Microsoft's Malvern, Pennsylvania, Microsoft Technology Center (MTC) is unlike the 42 others that exist in North America and worldwide. All their state-of-the-art training facilities provide executive class environments for Microsoft to brief their customers on all the products and capabilities the leading-multinational technology company provides for its customers. The Malvern site, however, offers something unique, a contemporary design solution brought to life with Corian® Design.
Within the walls of the MTC are story-telling spaces called Envisioning Centers; housing vignettes that illustrate "day in the life" stories of how people use technology to collaborate, connect and get work done using the backbone of Microsoft products.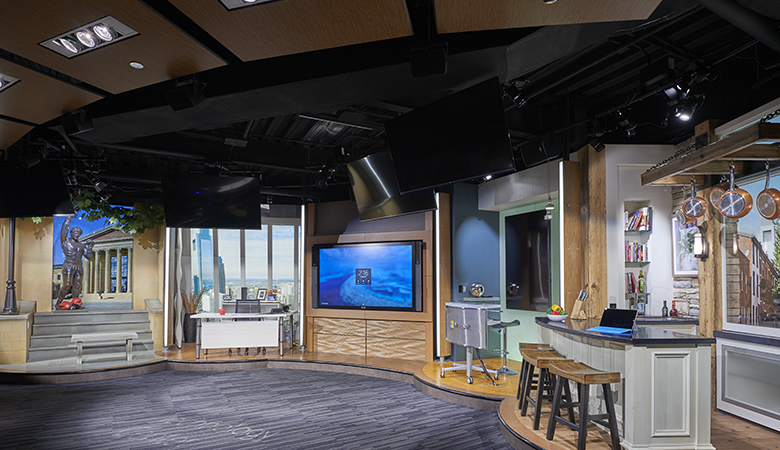 An Envisioning Center at Microsoft Technology Center in Malvern, PA.
In a space that simulates a theater setting, Microsoft's presenters take on different personas as they move customers from vignette to vignette, bringing to life their technology in action using scenarios in which their audiences can relate. One story-telling space illustrates how people work at home today – moving away from traditional home offices and into their kitchens. The story arc of this vignette centers around a Corian® kitchen counter – where someone also might be working while making dinner, fixing school lunches or paying bills.
The L-shaped Corian® countertop beautifies the space and adds functionality including an undermount sink, seamless appearance and three Corian® inductive wireless charging technology stations built right into the worktop. The countertop color is Corian® Deep Inkwell, an elegant hue with subtle movements of blue and black that can appear as casual as dark denim or as formal as a tuxedo.
Corian® DeepColor™ Technology is one of Corian® Design's latest innovations, providing greater depth of rich, lustrous color. The technology reduces scratch visibility by up-to 50 percent.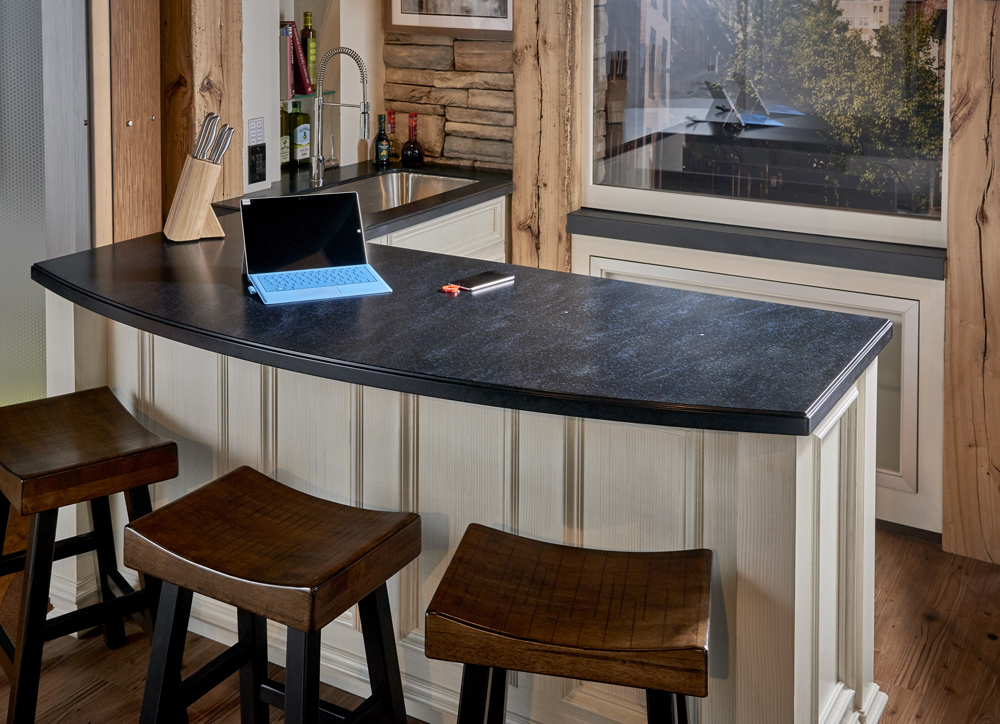 Corian® inductive wireless charging technology stations are seamlessly integrated into the Corian® Deep Inkwell countertop.
"The Corian® looks great and fits right in with the realistic intention of the center. The big story for us is that our technology center has been updated to reflect a modern work style with a modern surface. We're happy for the collaboration. Our customers love it." Tim Pash, Microsoft.
The Corian® Design team, including the fabricator McGrory, Inc of Kennett Square, Pennsylvania, worked with Microsoft to template, design and install the countertop.