The Hospital Expansion that Meets the Needs of Patients through Enhanced Design, Technology and Materials
In October 2016, members of the Reading, Pennsylvania, community became the benefactors of the $354 million expansion of Reading HealthPlex for Advanced Surgical and Patient Care. Designed to meet the future needs of patients through its advanced design and technology, the new 476,000 square foot surgical and inpatient tower includes seven patient-care levels and combines the hospital's many surgical services into one of the most technologically advanced and sophisticated surgical centers in the region.
Corian® Design, a frequent and favorite material of choice by healthcare facility architects and designers, played a vital role in the HealthPlex's design and development, which took 13 years of planning, three years of construction, 4,000 sheets of Corian® and 150 slabs of Zodiaq® Quartz.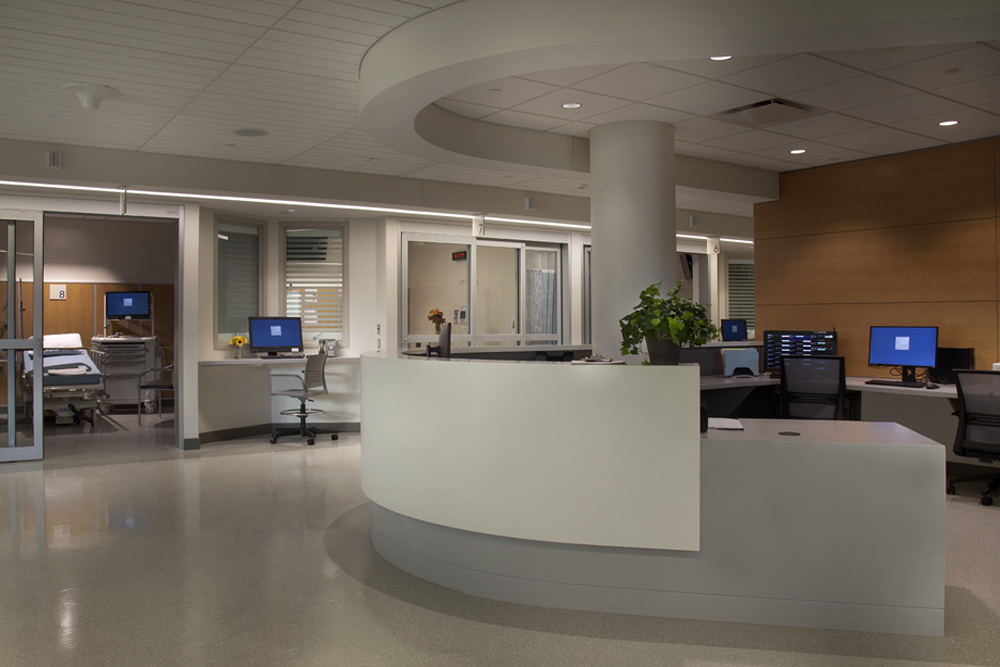 The Curved Nurses Station designed with Corian® Solid Surface and Zodiaq® Quartz.
Due to the varied number of ways and locations that Corian® was used, the project's general contractor, Driscoll, hired five different Corian® Design fabricators to handle the large, diverse and meaningful projects.
According to the architects of the Healthplex, Philadephia-based Ballinger, "Corian® is a durable, versatile and seamless material. In addition to use in countertops, its use as a wall covering in surgical suites, trauma rooms and patient bathrooms allows a non-institutional aesthetic while providing easily cleaned surfaces."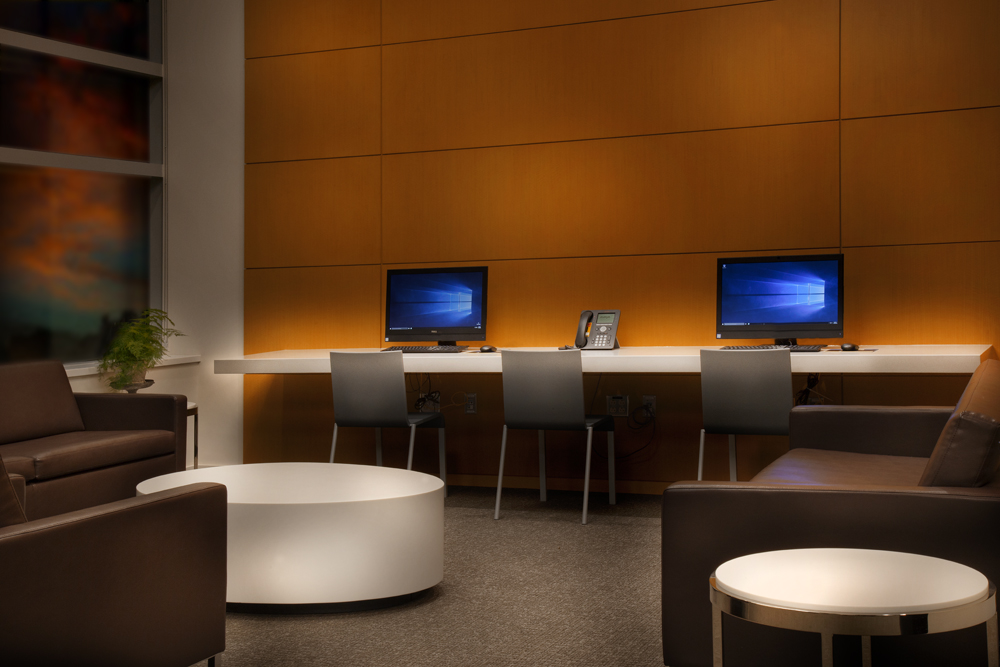 Guest Waiting Room
Corian® adorns the walls and other areas of the HealthPlex's 24 surgical suites, six hybrid-capable operating rooms, eight minor procedure rooms, 150 private patient rooms, 16 new emergency treatment rooms and five trauma bays. The reception and recovery areas for individuals scheduled for either outpatient or inpatient procedures also include Corian® solid surface and Zodiaq® Quartz.
Corian® Design Solid Surface was used to design:
Surgical room wall cladding
Nurses lounge (countertops and sinks and backsplashes)
De-centralized and other nurses stations
Treatment rooms wall cladding and countertops with backsplashes
Patient room wall cladding, headwalls, footwalls and wardrobe
Walls, column cladding and corridors
Patient bathrooms, showers and lavatories
Food service areas
Main lobby and public restrooms
Windowsills
Zodiaq® Quartz was used to design:
Reception and task areas
Physicians lounge
Nurses stations
Food service areas
Main lobby and public restrooms
Patient room foot walls
Patient waiting rooms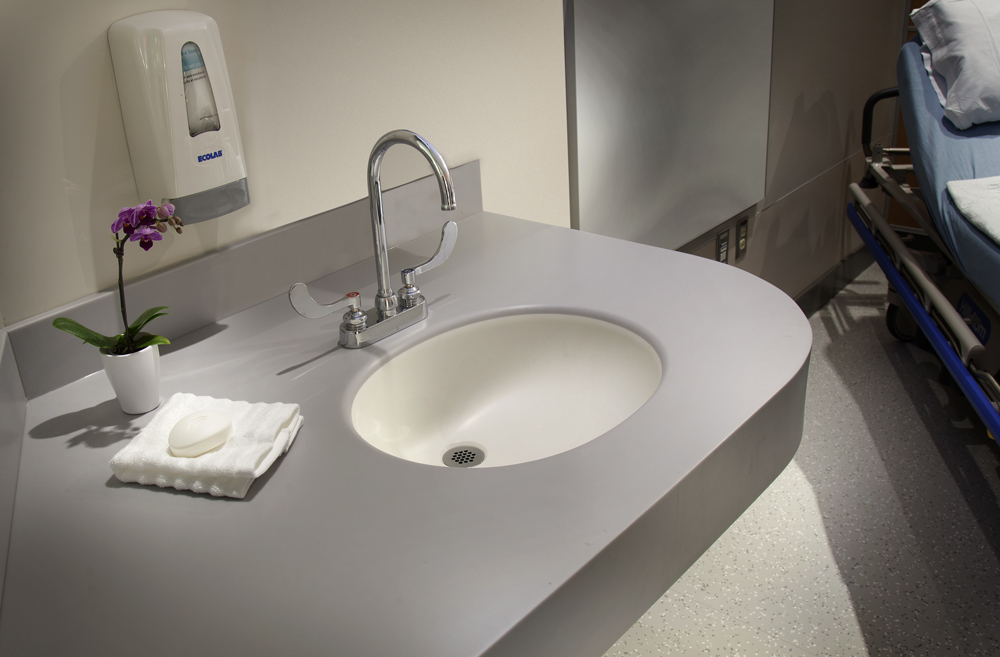 Patient Room Sink
During their healthcare journeys, patients and their families also will experience the benefits of Futrus® Solutions with Corian® Design within the surgical suites and patient bathrooms. Their beautiful modular casework made completely out of Corian® is designed for infection control, durability, and long-term value in any healthcare environment.
"Reading Hospital showcases the flexibility and durability that our solutions provide to healthcare environments," said Mark Allen, managing director of Futrus® Solutions.
Powered by Corian® partner, Futrus® Solutions, was used to create:
Surgical room casework, including Corian® vents
Patient room custom vanities
"In order to meet the challenging requirements and timelines of a job this big, and due to the variety of ways Corian® was to be installed throughout the building – OR control rooms, patient rooms, waiting rooms, bathrooms/showers, countertops/sinks and more – we employed the expertise of five different DuPont Surfaces fabricators for different areas of the building." – Andrew Walters, Construction Manager, Driscoll