Corian® Design Mid-Atlantic Territory Update
As many have heard, our long-term distributor and partner, C.H. Briggs is no longer a Corian® Design authorized distributor. This will leave a temporary gap in coverage in the territory spanning from New York to Georgia. We know that this will create challenges in the market, and we are committed to restoring our distributor network in this territory as quickly as possible.
Corian® Design production is strong and there is product available.
We are working on remedies and will share updates on this site as soon as they are available.
Please note that no other markets are impacted by this change. If you are currently supplied by one of our other distributors, there is no change to your service model.
If you are currently located in the old Briggs territory (2) please reach out to the appropriate distributor(s) based on your location:
Tennessee: H.J. Oldenkamp Co.
West Virginia, Ohio, and Kentucky: Ohio Valley Supply Company
All other states in the Briggs territory: At this time, please reach out to one of the distributors below that is adjacent to your market. We intend to select new distributors by early February.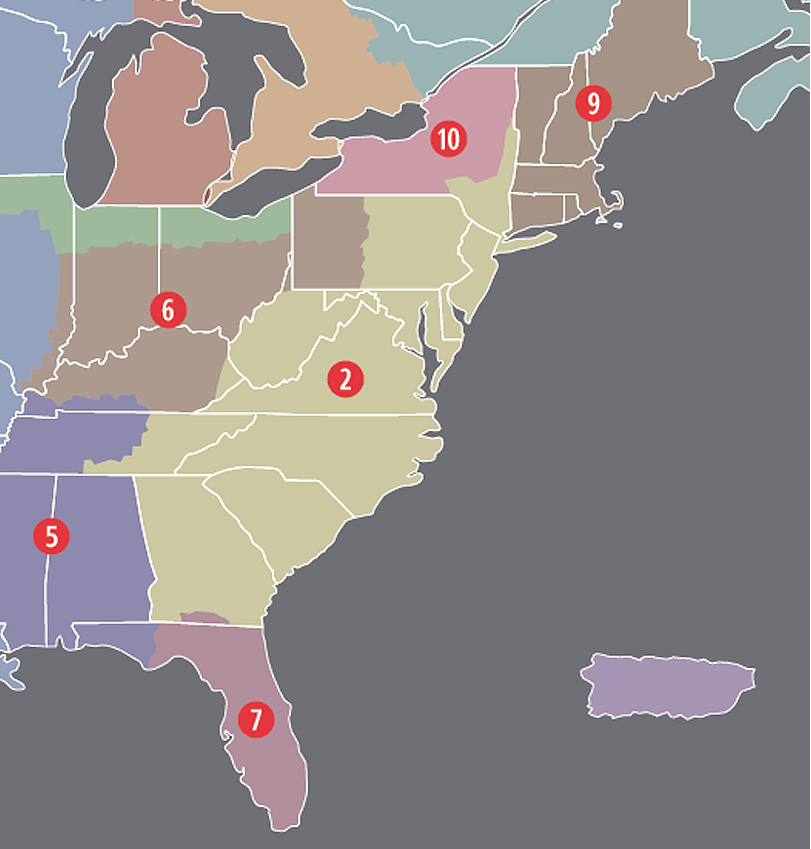 2
Previous Briggs Territory
6
Ohio Valley Supply Company
(800) 696-5608
(513) 681-8300
www.ovsco.com
7
Parksite, Inc. – Florida
(800) 237-0229
9
Parksite, Inc. – New England
(800) 338-3355
If you need samples, please go to Colors2U.com (https://coriandesign.colors2u.net). A&Ds and Specifiers will need to register for a commercial account. All others (Fabricators, Retailers, Builders etc.) should send an email to customercare@colors2ullc.com.
Should you have any additional questions, please feel free to reach out to DuPont Contact Center at 1-800-426-7426.
Additional information on our current distributors can be found here: https://www.corian.com/-contact-a-corian-r-distributor.
Thank you for your continued support and loyalty.