Corian® Tabletops for Commercial Use
Striking Tabletops Designs for Today's Food Industry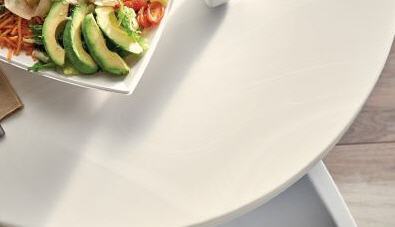 Corian® Tabletops Benefits
Nonporous and Stain Resistant. Spills do not permeate the surface, and with proper cleaning, Corian® Tabletops do not promote the growth of mold, mildew or bacteria.
Durable. Stands up to heavy use.
Restorable. Marks and scratches can be removed easily.
Warm and Inviting. Select from many on-trend colors to create an appealing style and experience for your customers.
Trusted & Supported. Corian™ Tabletops are backed by a 1-year Product Warranty.*
*Our 10-year Corian® Product Warranty is not valid for these tabletops.
Corian® Tabletops are an ideal selection for any food service, hospitality or other commercial project where durability, beauty and longevity are valued. These tabletops will enhance your customer's next restaurant, cafeteria, drinkery, bar, eatery or food court experience. Corian® Tabletops are available in 9 commonly specified sizes, each in 15 preferred colors, check out our tool below to see all the color and size options available. Additional sizes and all colors within the standard Corian® palette are available as custom orders.
Note: Some table sizes Include solid surface top seam. Seams are very inconspicuous. However, seam will be detectable in veined colored tops, such as Venaro White, Lava Rock, Sandalwood, and Witch Hazel colors.Pedestals and/or legs need to be source separately.
Locate a Distributor in your area for purchase
For more details download our brochure